Group and Ancillary Health Products for Independent Agents
Hildebrand Insurance Services provides Group Health Insurance products that meet a wide variety of needs for businesses and their employees.  The self-employed, and others need the protection afforded them by health insurance and we can help YOU be the one to deliver exactly what they need.
Group Health Insurance
Companies are ALWAYS looking for creative ways to reduce costs and providing health insurance to their employees is one of their biggest recurring expenditures.  Human Resource departments are taxed with the chore of 'shopping' for better Group Health Insurance rates.  You could provide exactly what they're looking for…with Group Insurance products from Hildebrand Insurance Services. 
We work with companies that offer a wide variety of group health plans designed to meet the various needs of today's employees.
Partner with Businesses in Increasing Employee Retention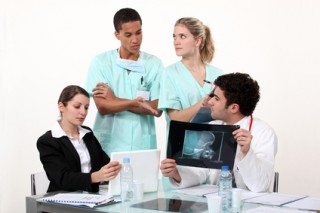 As medical costs continue to climb, today's skilled labor force is more insurance-savvy than ever before.  Group Health Coverage is a major factor in choosing one company over another as a potential employer.  Through Hildebrand Insurance Services, you'll have access to some of the nation's most respected Health Insurance providers, enabling you to offer a Group Policy that not only impresses talented job candidates but also keeps them on the team for years to come.
Multiple Policies Mean a Stronger Relationship
It's statistically proven that companies who carry multiple lines of insurance with one company are less likely to change agencies or insurance companies. With Hildebrand Insurance Services, YOU will be the one providing businesses with the products that build a quality benefits package at a competitive price.  That kind of full-service approach builds trust, resulting in greater retention for you and your agency.
Ancillary Products
Providing EVERYTHING You Need to Succeed
Eye exams, dental work, consumers face a myriad of expensive medical 'extras' they absolutely can't do without.  If your clients need a particular coverage, why shouldn't YOU be the one to provide it?
Hildebrand Insurance can help you deliver all the protection your client wants for so many of these additional ancillary medical expenditures.  As always, we comb a database of providers to deliver products that meet both the coverage and budget needs of your clients, helping you become the agent that delivers solutions in the eyes of your customer.  Many businesses look for ways to enhance benefit packages with additional affordable ancillary products in order to attract and retain quality employees.  Hildebrand Insurance Services can help!
Ancillary Products include, but are not limited to:
Vision Insurance
Dental Insurance
Travel Medical
International Medical Insurance
Group Retiree Medical Insurance
Cancer Insurance
Long Term Disability Insurance
Short Term Disability Insurance
High Limit Disability Income Insurance
Accident only Medical
Accident only Disability Income
Hildebrand Insurance Services can deliver most types of life and health insurance products.  If YOU have a particular need, let us know.  We'll provide the product your client needs.